Archive for the 'News' Category
So the holidays are coming, and although I am not one to like being TOO much around family, I do love to bake some goodies that will get me as equally baked. This holiday season, I am thinking of making some magic pumpkin everything.
Halloween is over, but I still have 6 fresh pumpkins that we never carved. In a stoner moment, I thought it would be such an awesome idea to carve like 10 pumpkins. Even high, I only had the motivation to do 4. Now the rest will be used for stoner baking! Magic Pumpkin Bread, Magic Pumpkin Chocolate Chip Cookies, Magic Pumpkin Pie, and maybe some Magic Pumpkin Cheesecake. Okay, so I am stoned and have the munchies… But, I have LOTS of pumpkin, and lots of recipes I have to try. Oh and don't forget, I have the best ingredient… The magic oil for baking.
So tell me… what's your favorite recipe? I'll Share mine, if you share yours. E-mail me at [email protected]
Hey sexy stoners! Sorry for the recent lag in updates again! Shits been hectic, but I have been doing some behind the scenes goodies for you all.
1st of all we now have an official Stoner Facebook page you should all pop over and LIKE.
B. We have added a page at the top for all our Exclusive Sexy Stoner stuff.   We have also been working with a couple badass Pornstar Stoners taking pictures and vids.  Also a couple Stoner Camgirls have been sending in things to post up we will get up soon-ish!  (fucking stoners!)  They are all Bad Bitches!
#5.  We got up our Stoner Tweets page.  Its a always updating list of what stoners talk about on twitter.   Sometimes its pretty funny to watch and reply to when on some Good Green!  We also have a list of friends of the site stoner tweets featured on the front page now too since they are the dank peeps that keep this place high.
Umm thats about it but it sure seemed like more before!  There was some other maintenance type shit too..

Anyway.. Now to the good shit!  Sexy Big Booty friend of the site GreenEyed sent over what we hope is a regular video series of her smoking some good weed and being the bad bitch she is!  In this installment she smokes some nice looking Strawberry Lemon Haze!  Enjoy the video and check out the sexy videos on her site!  SexyGreenEyed.com 

*Video:bad bitch greeneyed smoking good weed
Thats it for now.. More updates soon! Now be pal and click an ad below or to the left to help support the site 6 cents at a time! I am trying to save up for an
eighth
of some
good weed
!
;/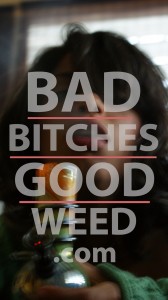 I wanna welcome new writer ToxicLunch to the site!  He hit me up to do some writing on the site and when I read his review of BlueDream on his site I was sold!  - Rev
My name is Toxic Lunch from ToxicLunch.com. I love women, food, traveling, weed and writing. Mixed together, you've got my idea of perfection.
I've been a journalist in three countries, smoked marijuana in more than five and have cooked in two. I don't consider myself a ganja or food critic as much as an advisor. I'm passionate about my work; therefore I don't tolerate ignorance or stupidity. No compromise!
As you can see I also dabble in photography, mainly photojournalism. The rest of the time I point my lens toward beauty in an attempt to capture it. The visual prisoner smoking a blunt of Puerto Rican homegrown in this set goes by the name of Xio. A bad ass chick who smokes blunts by day and rips bongs at night!
Like it? There's more where that came from….but that's for another day and spliff!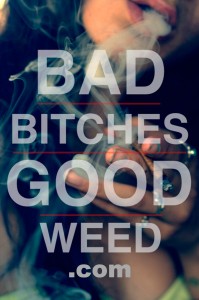 Ya ever have just a picture kinda inspire you to take things to a little different level?  That's what the above picture did for me.  I was surfing online as per my norm when I came across the above picture.  For some reason it just hit me that the motto "Bad Bitches Good Weed" is EXACTLY what I was wanting this site to be tied up in a nice little saying!  Since I found it I have had it opened on my toolbar of my PC and would randomly open it up.  Everytime I saw it I would be more inspired to work on the site.    Then I went ahead and changed the masthead at the top of the site to reflect it.  Now I have even gone on to register the URL BadBitchesGoodWeed.com and pointed it to this site.  Time will tell how I decide to develop the domain but I sure like it now!
OK.. I was watching whats trending on twitter as I normally do when the term "A Bag Of Weed" started trending much to my excitement!  As I type this is in the #4 spot Worldwide and about the same in the US and all major cities.   I could not figure out what the reference was initially then I sat down to smoke my evening bowl and watch Family Guy  and WHAM! (the sound not the bad 80′s band) whats the episode about????  Legalizing weed in Quahog!!  How have I never seen this one before?!?!  Anyway..  Here is the video from the show for all to enjoy!  Smoke a bowl and have a laugh!
BluntBrothers Productions 

1st Production!
We are PROUD to present our very 1st actual production!  Its a hot little music video for the song Marijuana by Kid Cudi featuring Charisma Cappelli!  I posted the official version of the video a few weeks ago since I liked it so much.  The song really fits a stoner mood perfectly and when the chance came up to shoot Charisma I could not think of a better song to put her video to!  Her & I had a BLAST shooting this video and it took 2x times longer then it "should" have taken since we just had to keep packing more bowls.  Enjoy!  Let me know what you think!
*Video:charisma cappelli kid cudi marijuana 420
hehe notice the video length is even 4:20!
The original Pimp Chronicles is always a stoners favorite.  Katt Williams is funny as hell in his rant about weed in it.  NOW add in a badass video remix by DJ Steve Porter and you have GOLD!  Enjoy!
If you know me at all you know I love old school west coast rap. 2pac is a legend in the game and I have been listening to him since he was in Digital Underground. So when I came across this quick little clip I had never seen of 2pac rolling a blunt I knew I had to post it up.
I have no idea what thats from so if anyone knows let me know..
One of the BluntBrothers favorite bands has to be our buddies Dick Delicious & the Tasty Testicles.. This is one of their songs from their new album "A Vulgar Display Of Obscurity" which is now also avail on iTunes. I have a advance CD (since I am cool like that!) and it rocks & is funny as fuck! Pick it up bitches!
You can also read how the song came about directly from Dick himself here!