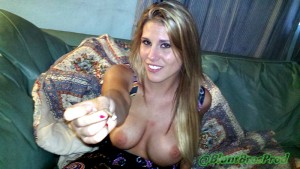 One of my favorite people in the adult biz to spend time with and who I consider one of my best buddies is the always fun Charisma Cappelli.  I have gotten to know this little dynamo pretty well over the last year and she is always one of the sweetest girls I know.  (And I am not just saying that because I have seen her naked more then anyone else either!)  Let me tell you, two of Charismas favorite things to do are smoke weed and be naked and both are A-OK in my book!  There is no way to even count the times that I have been stoned with Charisma since I have known her!  (You should also check out the video I posted of her with Kita Zen a couple posts ago)
1.  Name and stats please
charisma cappelli
aka charisma mother fuckin cappelli yo!  I'm 5″2 115 pounds trimming down to 110! A work in progress lol!
2.  How long have you been enjoying 420?
I have been enjoying 420 now about a year now! Thank you to a great friend for making my life so much happier! I love you
harmony rose
and miss her dearly! God bless you girl!
3. 
Favorite way to smoke?
My favorite way to smoke would def be my good buddy
revsand
s steam roller! Can never go wrong there!
4. 
Whats your favorite memory of smoking 420?
I was high as balls and had to visit my doctor and I was sick w fever and was laughing hysterically even when he put the shot in my ass!
5.  Do you enjoy having sex while stoned?
Does using the magic wand count lol?  Jk sex while under the influence of weed is the best orgasms and best stress reliever!
6.  Ever get stoned with your fans?  Ever hookup with anyone while blazing off camera?
Hell yeah! One of my fans we will smoke out together from time to time! He gets so fucking hilarious! I love seeing people high! It makes for a happy day!
7.  Whats the most stoned you have ever been?
Omg all the time when I go to la! It's a real treat! I expand my Horizens and jump right into some edibles and smoking outta things that could ever be possible lol! ( knife hits, gravity bongs, 3 foot bongs, you name it. I bet it's been done lol!)
8.  Do you masturbate stoned?
All the time! I would always run and sneak to do it but I guess I get to into it  now.   I think I will go do it now as a matter of fact!
9.  Ever been in trouble for being stoned?
Actually  no. People think something is wrong w me if I don't smoke ha ha!
10. Any favorite strain of weed?
Hell yeah only stativa. I wanna be a functioning pot head! Enjoy the world and not just my couch and food! Lol!
11. Do you have any rituals for smoking out?
In la my buddy will clean every piece in his house then he will make a perfect loaded bowl! If that is not a ritual I don't know what is lol!
12. When was the 1st time you got stoned?
I remember how hungry I was holy crap I ordered food and then my bill was 80 dollars. Just on me! At a lovely restaurant called 4 n 20. How appropriate lol!
13. Favorite munchies?
Damn that's a tough one? Does edible brownies count lol! The mega sized lunchables! U can't go wrong w that! Hell I don't have a favorite! All food!!!!
14. Funniest/stupidest thing you have ever done stoned?
There's really not a moment in my life when I'm not funny or stupid!
But one moment in particular. I was walking to the store and I must have zoned out cuz when I came back to focus I totally forgot what I was doing in the first place!
15. Oddest thing you have ever smoked from? Ever have to McGyver a piece to smoke from?
Holy shit apples, knives, a receipt ( don't ask lol)
16. Favorite person or people to smoke with?  Why?
My doggy! He sings w me and talk talk talk! Ok for real tho. I would have to say I love smoking w everyone! New friends can meet! Look at "how high" perfect example lol!
17. What was your BESTEST smoking session?
There all good ha ha! I never had not enjoyed myself lol!
18. How good do you think you are at rolling blunts on a 1-10 scale?  and why?
I have good ones. And some bad as well. Ha ha. If there smokable it works for me!

19. If you could smoke with anyone who would it be and why?
Seth McFarland! He Gots to be one of the funniest men jn the universe! It would be a huge honor to do so!

20. Favorite song while stoned?  Favorite band?
Don't fear the reaper! It's a great stoner song for me! And of course you can't go wrong w some tom petty!

21. Do you celebrate 4/20?  What did you do last 4/20?
Duh! Last year I bought 2 ounces of medical and smoked it all day long! Ha ha! No movement that day! Just pretty much holding te blunt to my mouth! Lol

22. Has being stoned ever ruined or been bad for a shoot?
Hell no. Actually increased my work! I do so much better high and enjoy it so much more. My fans can google for that!

23. Whats your favorite thing to do while baked?
Playing video games!
24.. How can fans find you?