Hey sexy stoners! Sorry for the recent lag in updates again! Shits been hectic, but I have been doing some behind the scenes goodies for you all.
1st of all we now have an official Stoner Facebook page you should all pop over and LIKE.
B. We have added a page at the top for all our Exclusive Sexy Stoner stuff.   We have also been working with a couple badass Pornstar Stoners taking pictures and vids.  Also a couple Stoner Camgirls have been sending in things to post up we will get up soon-ish!  (fucking stoners!)  They are all Bad Bitches!
#5.  We got up our Stoner Tweets page.  Its a always updating list of what stoners talk about on twitter.   Sometimes its pretty funny to watch and reply to when on some Good Green!  We also have a list of friends of the site stoner tweets featured on the front page now too since they are the dank peeps that keep this place high.
Umm thats about it but it sure seemed like more before!  There was some other maintenance type shit too..

Anyway.. Now to the good shit!  Sexy Big Booty friend of the site GreenEyed sent over what we hope is a regular video series of her smoking some good weed and being the bad bitch she is!  In this installment she smokes some nice looking Strawberry Lemon Haze!  Enjoy the video and check out the sexy videos on her site!  SexyGreenEyed.com 

*Video:bad bitch greeneyed smoking good weed
Thats it for now.. More updates soon! Now be pal and click an ad below or to the left to help support the site 6 cents at a time! I am trying to save up for an
eighth
of some
good weed
!
;/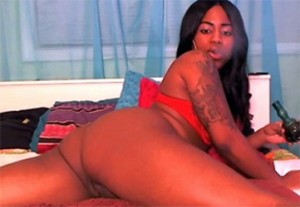 I have been following the sexy Charnice for a while now on twitter since I always love the sexy pics she posts up.  Hell.. She is a 4'10 shorty with a booty like WOAH!  She also has some badass tats which I am always a fan of on a girl.  So awhile back I asked her to do an interview which she was kind enough to do timely and I am just finally getting around to posting up.
1.  Name and stats
Charnice Davon, 20 y/o, 4'10, 110 lbs, Measurements: 34B-27-38
2.  How long have you been enjoying 420?
I have been enjoying it since I was 15!! Going strong ever since!
3.  Favorite way to smoke?
Bowls, bongs, & pipes are my favorite.
4.  Whats your favorite memory of smoking 420?
Well the best ones come from when me and my lover are having a sexual encounter and we smoke a blunt while I'm riding his hard cock!! He loves it! I think he has a smoking fetish too lol
5.  Do you enjoy having sex while stoned?
Of course I do lol it's a must!
6.  Do you masturbate stoned?
Yes, all the time. I have plenty videos of me doing that. I have lots of stoner fans so now I just turn on the camera when I am enjoying myself.
7.  Ever been in trouble for being stoned?
Lol, yes I have. Lots of times! But luckily i have always seemed to not get caught by the police so i have a clean jail record! Thank God for my vagina aka my secret hiding place!
8. Any favorite strain of weed? (indica or sativas, etc)
wooh u pulled some words out on me that i don't know lol well i know i love OG Kush, it's my favorite and what i totally prefer. (sorry! its a cali thing.)
9. Do you have any rituals for smoking out?
Nah I just smoke everyday before bed, when I wake up, before i eat, before i have sex, before i do cam shows lol.
10. When was the 1st time you got stoned?
I was 15 with a friend and she kept telling me to try it so I did. And I loved it every since. It's the answer to all my high school stressful problems that I had so I love weed!
11. Favorite munchies?
Cookie dough ice cream, plain lays, purple skittles, salsa & chips
JerkOff Break Video!
12. Funniest/stupidest thing you have ever done stoned?
Well my first time smoking some purp with my friend, we where soooooo fcking stoned and we could have sworn some black truck was following us. We where running from it looking like idiots and hiding behind houses and thinking we where in some 007 movie. Lol. I later almost hyperventilated and couldn't catch my breath for shit. I thought I was abt to die. But it was all in my mind. Lol. Turned out the truck was not following us and I built a good tolerance up.
13. Favorite person or people to smoke with?  Why?
my lover of 2 years, and because we both love to smoke, get high then have the best wildest, passionate sex!! He loves watching me smoke and ride his dick.
14. What was your BESTEST smoking session?
shit i have so many and don't think i can remember
15. How good do you think you are at rolling blunts on a 1-10 scale?
I am a 9 or 10!!! I pearl them bitches!
16. If you could smoke with anyone who would it be and why?
I would like to smoke with mike epps or kat williams b/c they are sooo funny and seem like they would make my high much more enjoyable.
17. Does getting stoned make fucking more fun?  Does it improve your orgasms for you?
yes it does! love it!
18. Favorite song while stoned?  Favorite band?
i love reggae music when and im high and paramore
19. Do you celebrate 4/20?
Everyday is 4/20 for me so i just get high like always.
20. Has being stoned ever ruined or been bad for a shoot?
nope!
21. Whats your favorite thing to do while baked?
i love to watch movies and eat salmon lol
22. How can fans find you?