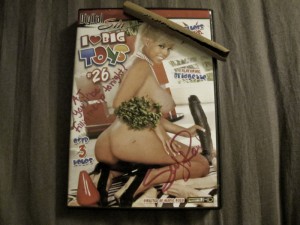 Since my debut in the industry is coming out, I figure what better time than to break out my gift from my co-star via the Exxxtacy Convention Chicago.  My shop tattooed at the convention, I met Sea J. Raw, won Fuck-a-Fan, and well, the rest is history.
I had the time of my life.  Between Porno Dan, Rev Sand, Jim Powers, Sea J., Jessie Andrews, Sara Jay, Charisma, everyone, it was awesome.  I even tattooed Lexi Belle's signature on a fan at the convention.
Sea J. gave me the dvd and signed it before my big night.  Ahhh, the memories.  (note her message)  Support Fluffers 4 and Fuck-a-Fan 12.
On a side note, Bridgette B. is really dope to me.