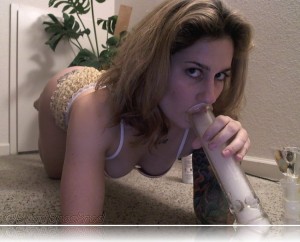 Ohh DANK!  Here is the 1st of hopefully an ongoing series of interviews with some hotties that get naked and smoke out.  GreenEyed hit me up on twitter wanting to get interviewed and once I took a look at her site and her booty there was no way I could say no!  Hot damn did I mention her booty? 
1. Name and stats please
Kaylie but everyone calls me Green Eyed! I'm a 23 year old booty shaker and cam girl in Nor Cal. I love getting high. I don't take life to seriously but I am driven to succeed and be a whooty sensation!
2. How long have you been enjoying 420?
I got high for the first time in 11th grade with some friends.
3. Favorite way to smoke?
I have an awesome bong! I really love Cyclone blunts. I also enjoy my bubbler and Hurricane bong! There is no bad way to smoke

4. Whats your favorite memory of smoking 420?
I love blunt rides and getting super fucked up sipping on an iced coffee looking at the scenery.
5. Do you enjoy having sex while stoned?
I absolutely love it! Weed makes me super horny. I love caressing and fucking my lover after a good smoke sesh.
6. Whats the most stoned you have ever been?
One night I passed out on the floor with a bag of oreos

7. Ever been in trouble for being stoned?
people give me looks sometimes or tell me i look very tired lol but nothing bad has happened
8. Any favorite strain of weed?
Juicy Jack is my current fave!
9. Do you have any rituals for smoking out?
One of my favorites I came up with is the Walrus. You smoke two blunts at once and the blunts hanging out of your mouth look like Walrus tusks!
10. When was the 1st time you got stoned?
in high school with some friends. i kept saying my name over and over and laughing. the first time i smoked "headies" lol i cried into a couch i had never been that stoned before.
(Masturbation break!  mmmhmm  Yum!)
11. Favorite munchies?
oh wow so many- i love jack in the box mini funnel cakes, caramel bugles, french fries, taco bell, iced coffees, etc.
12. Oddest thing you have ever smoked from? Ever have to McGyver a piece to smoke from?
I tried to smoke out of a pomegranate once lol…
13. Favorite person or people to smoke with? Why?
my man cause he rocks!
14. What was your BESTEST smoking session?
Thanksgiving 2009 my man and I smoked a Gigacone throughout the day booooy was I fucked up!
15. How good do you think you are at rolling blunts on a 1-10 scale? and why?
I don't roll blunts I usually use the pre-rolled. Time saver!
16. If you could smoke with anyone who would it be and why?
Lil Wayne because I love him. I would let him blow me shotguns all night.
17. Does getting stoned make fucking more fun? Does it improve your orgasms for you?
Yes i think it tunes me in more to my body and my true desires.
18. Favorite song while stoned? Favorite band?
My favorite stoner song is The Weed Song by Bone Thugs. I also love Collie Buddz "Mary Jane" it's made me cry before when i was hella baked lol
19. Do you celebrate 4/20? What did you do last 4/20?
yes i got high and made a video for my site
20. Whats your favorite thing to do while baked?
watch funny television shows, take a walk, munch out, snuggle, make up crazy shit in my head, lay in the sun, pretty much everything is better baked

21. How can fans find you?
clubgreeneyed.com
mygirlfund.com/kaylie
greeneyed.cammodels.com
twitter.com/greeneyed9
sexygreeneyed.com
youtube.com/clubgreeneyed
greeneyed9.info
greeneyedbooty.com

Woohoo.  Site is just up a day and got our 1st viewer submission.  Its of model @VeganBombshell before a photoshoot and was submitted by @Scarecrobot who took the pic.. 
Send yours into revsand(at)bluntbrothersproductions .com..