Yea I am not the most timely on these..  Sheesh shoot me!  Dreamgirl Cindi is a camgirl 420 smoking chic who submitted to be interviewed on the site.  She did all the right things and I am glad she did..
1.  Name and stats please
Cindi, some know me as Dreamgirl Cindi or Cindi from Dreamnet. I am a 34A,29,33 I have shrunk some since my last interview WOW!!!!
2.  How long have you been enjoying 420?
I started smoking green about 11 yrs ago, so not quite a vet yet but still, lol
3.  Favorite way to smoke?
Honestly anyway, really!  I love blunts because I love to roll em. Then I would say it's my Gandolph, then the bong. I dont really like joints but will smoke em!!
4.  Whats your favorite memory of smoking 420?
I had taken a break from smoking for about a month, was living in VA at the time and there was none around, well we decided to roll home back to NY and we saw some old friends. We toked so much I was burnt for hours and hours.. Good times and tons of laughs!!
5.  Do you enjoy having sex while stoned?
I enjoy both all the time any time.. I usually am stoned when I am having sex

Hey that's me!
6.  Ever get stoned with your fans?
Not in real life as of yet.. But I Twitter Toke with all the Fans who par-take!
7.  Whats the most stoned you have ever been?
The first time I had ever smoke Good Dro! OMG I thought I was Floating off the bed I was laying on!!
8.  Do you masturbate stoned?
This is a daily thing for me

lol
9.  Ever been in trouble for being stoned?
Never
10. Any favorite strain of weed?
Granddaddy Purp is what it is called here.. Pic shown!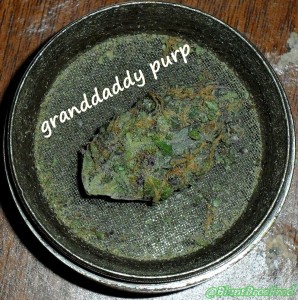 11. Do you have any rituals for smoking out?
I like to smoke 2 blunts in one sitting, same goes for bowls, if its a bong I like to do like 4 packs

12. When was the 1st time you got stoned?
I was 26 at my Uncle's house chillin on my cousins bed!!!
13. Favorite munchies?
Chocolate Twinkies frozen

14. Funniest/stupidest thing you have ever done stoned?
I have 2. First is One of the biggest fouls ever. Driving down the road. Token away. Pulled into a gas station and had the bowl sitting in my lap. I jumped outta the car and smash!! Pissed I was. Bought papers there.. Then the second is, Hunny and I rented a hotel room and got to fucking so much we dropped the bowl on the floor and then passed out.. Woke up packed up the room and took off.. Got half way down the highway and realized we had no bowl.. We think when it fell off the bed it got pushed under the bed and neither one of us saw it! The maid made out well in that room LMAO!
15. Oddest thing you have ever smoked from? Ever have to McGyver a piece to smoke from?
This marker thing I used to have! Odd but kick ass. I miss that lil marker!    Also we made a parashoot with a liter bottle and a bread bag and some duct tape

harsh at times but what a high!!
16. Favorite person or people to smoke with?
my hunny! Why? he has always been there and we have some awesome convo's
17. What was your BESTEST smoking session?
a 420 party, OMG the entire crew of peeps we hang with, joints, bongs, bowls, and blunts! dro and mids. it was held at my house. it was a full house too with like standing room only!! kick ass …
18. How good do you think you are at rolling blunts on a 1-10 scale?
9 to a 10  because I am a perfectionist lol I feel out of every 10 blunts I roll 9 are perfect, straight split and burns perfect!! I learned from a sista down in the 727!!! I love to roll White Owl Cigarillos!!
19. If you could smoke with anyone who would it be and why?
I would totally Love to smoke with Belladonna (
@BelladonnaENT
) Kristina Rose (
@kristinarosexxx
) and Mr. Pete ( @MrPete_im_me ) because it is a fantasy of mine to smoke and play!!
20. Does getting stoned make fucking more fun? yes I think it does, if you aren't fried!   of course it improve your orgasms! lol
21. Favorite song while stoned?
Honestly I have no favorite song I am into it all.. I bounce around from Classic Rock to Hip Hop!  Favorite band? Lady Gaga
22. Do you celebrate 4/20? What did you do last 4/20?
every year!  had friends over and toked up then if I remember right we ended up going to the park for a smoke fest there for a lil bit.. Toked up all night too

23. Has being stoned ever ruined or been bad for a shoot?
As far as I know no, other than I have stoned eyes sometimes lol..
24. Whats your favorite thing to do while baked?
Shoot pics, laugh and dance around!
25.. How can fans find you?
Ya know a girl loves to be spoiled so come check out my wishlist!!  
http://amzn.com/w/12HHXYSLQ5BZJ
Also, remember I send back Thank You packages too!! I love my fans!! Especially the ones who treat me good! Hehehehe!
Also, One more thing, Thank you to BluntBrothers for the interview and exposure! I am much appreciated. Thank you to my fans too because if it wasn't for you I wouldn't be where I am at today! I also want to thank the best hunny hubby in the world for the trust and honesty we have in our relationship! We will run strong for life!!! Kisses Cindi xx
Thank you Cindi!  Sorry for the delay getting it all up!