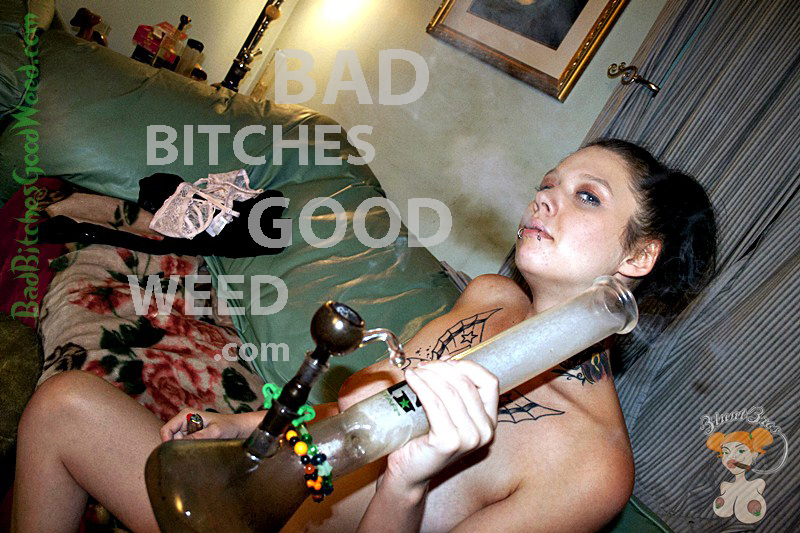 Daisy Dare is a little waif cutie that I met over twitter and got the chance to smoke out with. I asked her to do a stoner photo shoot for the site & an interview and to my delight she did both. She is such a stoner she even named her new puppy irie calikush. Ya gotta love that!
1. Name and stats please
I am the one and only Daisy Dare! The Nike of porn.. or so I say.
2. How long have you been enjoying 420?
Since I was a wee nugget. (12)
3. Favorite way to smoke?
Bongs, the bigger the better. Though I do love me a well rolled blunt. Honey Blunt anyone?
4. Whats your favorite memory of smoking 420?
My 18th birthday, a bunch of my friends and I skipped school to smoke some of the bombast shit I have still yet to see again. Geometro style, jizzy jellybean of a car. Smoked around all of Ohio while two ppl were sleeping, passed out in the back. Happy Birthday ME!
5. Do you enjoy having sex while stoned?
I love sex at all times, but stoned is best.
6. Ever get stoned with your fans? Yes, I have gotten stoned with a lot of fans! Some bring me little weed gifts. Packed up apple to smoke and then eat. That was a fun one.
7. Whats the most stoned you have ever been?
While I was in CA I got really stoned with a friend and when I was looking in the mirror I forgot I had a tattoo on my arm and thought I was bleeding. It was sorta scary but not in a bad way.
8. Do you masturbate stoned?
When am I not stoned? And due to that fact, ohhh why yes I have masturbated stoned.
9. Ever been in trouble for being stoned?
When I was 15 some cops thought I was a runaway and searched my shit. Found some bud, they were not pleased. But I wasn't the runaway so.. they let me go.
10. Any favorite strain of weed?
Indica – Fire OG, shits bomb as hell.
11. Do you have any rituals for smoking out?
Mullholland drive. Best burn cruise!
12. When was the 1st time you got stoned?
Bong hits with my step brother. Oh lordy…
13. Favorite munchies?
Nachos and slurpeessss
14. Funniest/stupidest thing you have ever done stoned?
My friend was trying to learn driving stick in a Chevy Colbalt. We spun out on an S turn and she was driving a little too fast. Scary but hilarious. Death ride.
15. Oddest thing you have ever smoked from?
Ever have to McGyver a piece to smoke from? A blunt holding steamroller from a Gatorade bottle.
16. Favorite person or people to smoke with?
My best friends J
17. What was your BESTEST smoking session?
Eazy E smoke session. On his grave here in LA. Epic.
18. How good do you think you are at rolling blunts on a 1-10 scale?
I'd say 5, but that's cause I always have my bitches roll them for me.
19. If you could smoke with anyone who would it be and why?
I would love to smoke out with Tech Nine cause he's my favorite rapper and I know he's got the K-town bud.
20. Does getting stoned make fucking more fun?
Does it improve your orgasms for you? I smoke a lot so, I can't really tell. It's sorta just my norm.
21. Favorite song while stoned? Favorite band?
Purple Kush – Living Legends FB- Head PE
22. Do you celebrate 4/20? What did you do last 4/20?
Yes! Went to a party at a friends house entitled "Clits, Tits and Bong Hits". It was out of hand. Stip Dance revolution on Xbox… I mean dance dance… sorta.
23. Has being stoned ever ruined or been bad for a shoot?
No, though I only smoke on set if it's allowed. I never presume it's ok to do it without prior knowledge. It is not my set, not my place to decide.
24. Whats your favorite thing to do while baked?
Shopping! For food and sex toys.
25.. How can fans find you? Anything else to add?
My fans can find me on twitter @Thedaisydare on Kinklive.com (Daisy Dare), and my blog spot. You can find me all overrrr. Come say hello! Smoke a bowl with me cuz im better than a blonde babe and better than Beyonce x)-~
Daisy is also launching her new website DaisyDoesIt.com which will be a website about her favorite things, Weed and Food!